Introducing our EL1 Speed, Strength & Agility clinics for summer 2022, in Puyallup and Seattle.
Click on the CLINICS tab to learn more and register.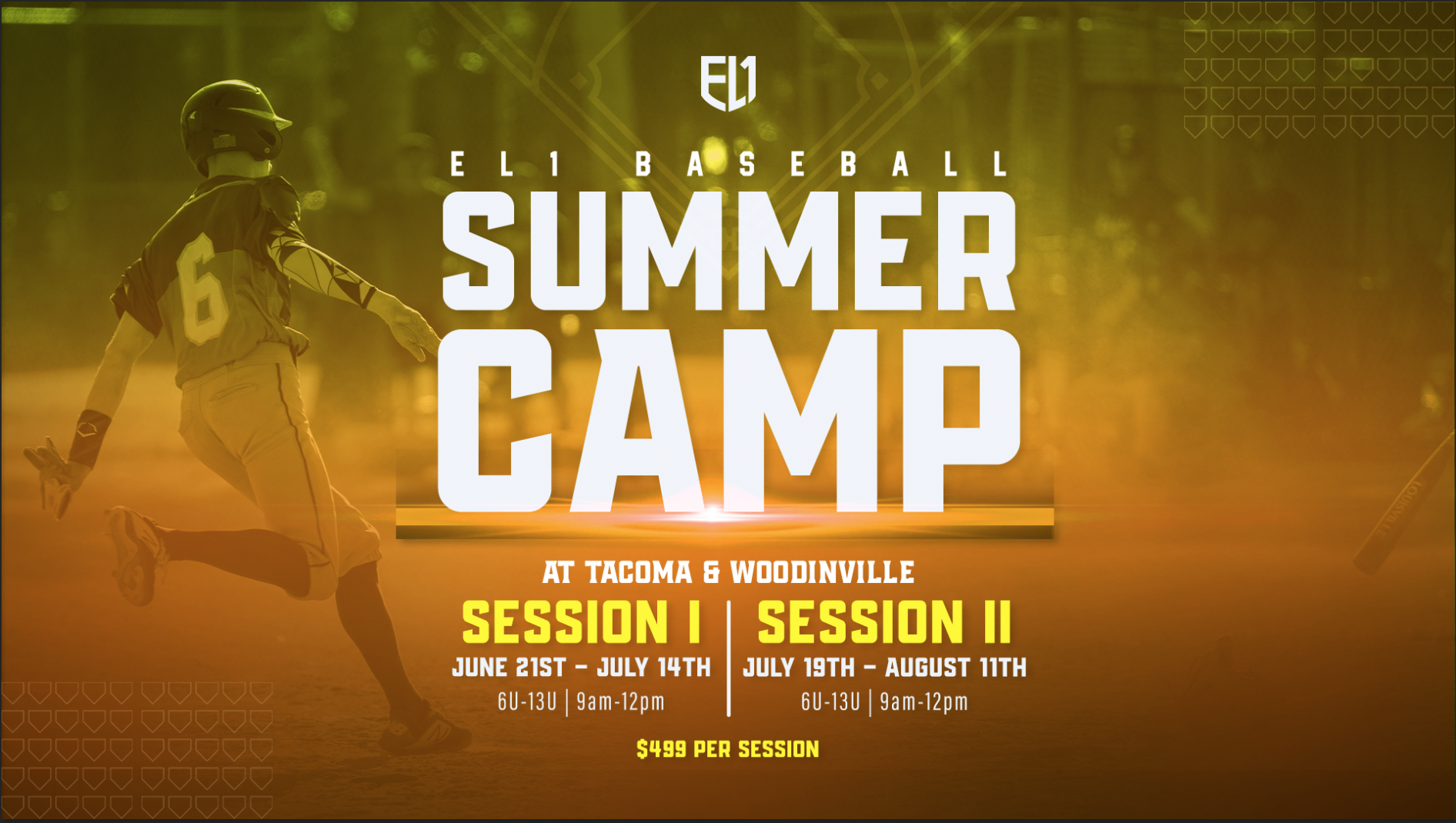 SUMMER CAMP (2022)
Locations: Tacoma & Woodinville
Arts and crafts, swimming in the lake? Uh, no. In our Summer Camps for athletes age 6-13, we focus on each of the 5 critical baseball tools: Hitting, Hitting for Power, Running, Throwing (Pitching), and Fielding. This is your opportunity to come and learn from those who have played at the highest levels and are committed to helping improve your game!  Camp 1 runs 6/21 to 7/14; camp 2 runs 7/19 to 8/11.
REGISTER FOR WOODINVILLE CAMP 1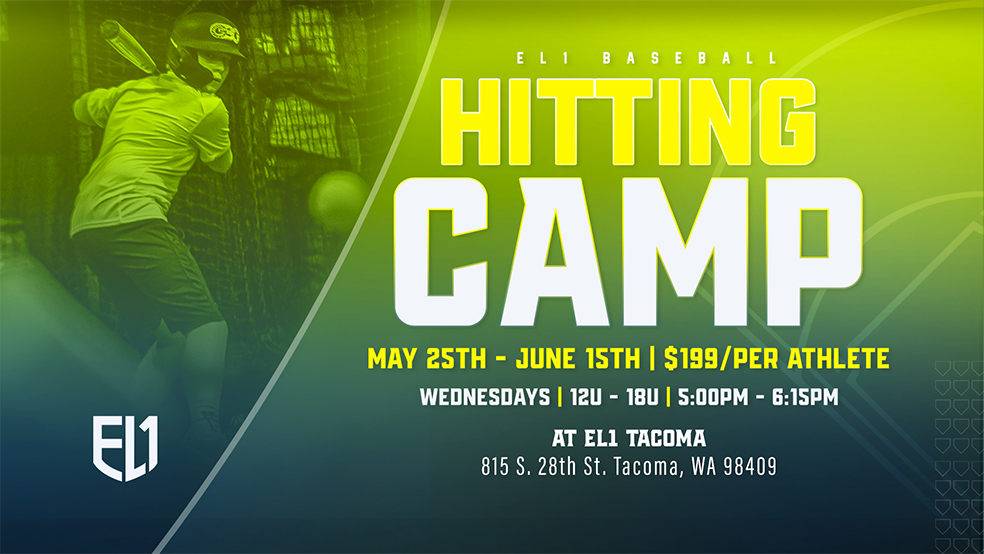 HITTING CAMP (2022)
It Was Great While It Lasted – See You Next Time?
Location: Tacoma
Is your swing built for power, or gap-to-gap hitting? Should you be trying to take those curve balls to the opposite field? Players discovered the answers at EL1's Instructional Hitting Camp in May and June. Our progressive curriculum focused on a professional approach at the plate. The camp also utilized state-of-the-art HitTrax technology to capture real-time metrics and give immediate feedback. Check back here often for details so you won't miss the next one.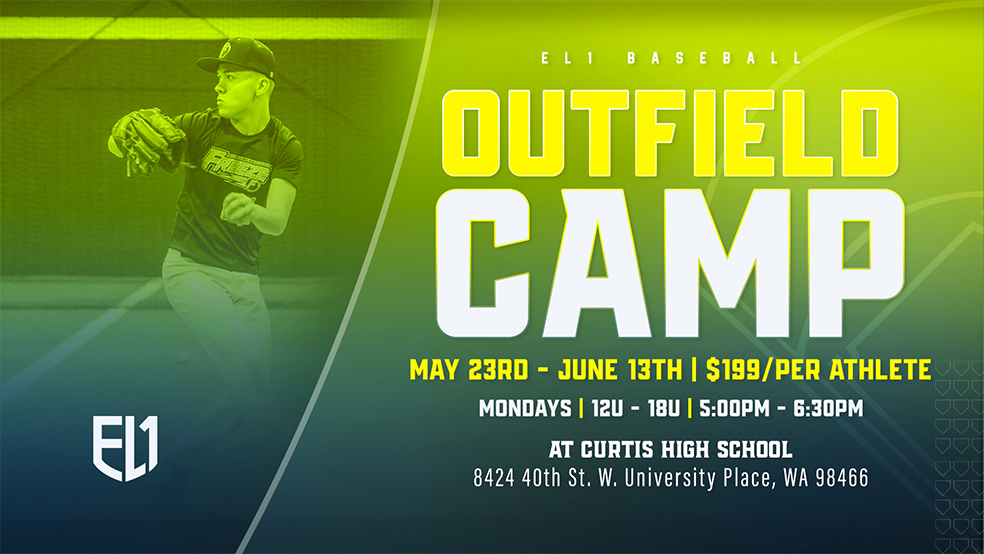 OUTFIELD CAMP (2022)
All Done for This Season, But It'll Be Back
Location: Curtis HS, University Place
Struggling to track the ball in the outfield? Need some assistance with footwork and gaining a better first step? EL1's Outfield Camp would be great for you! Players  learned a true outfield throwing program, the fundamentals of catching a fly ball, route efficiency with proper footwork, and fly ball communication. If you want to take your outfield skills to the next level, then come join us on for future Outfield Camps.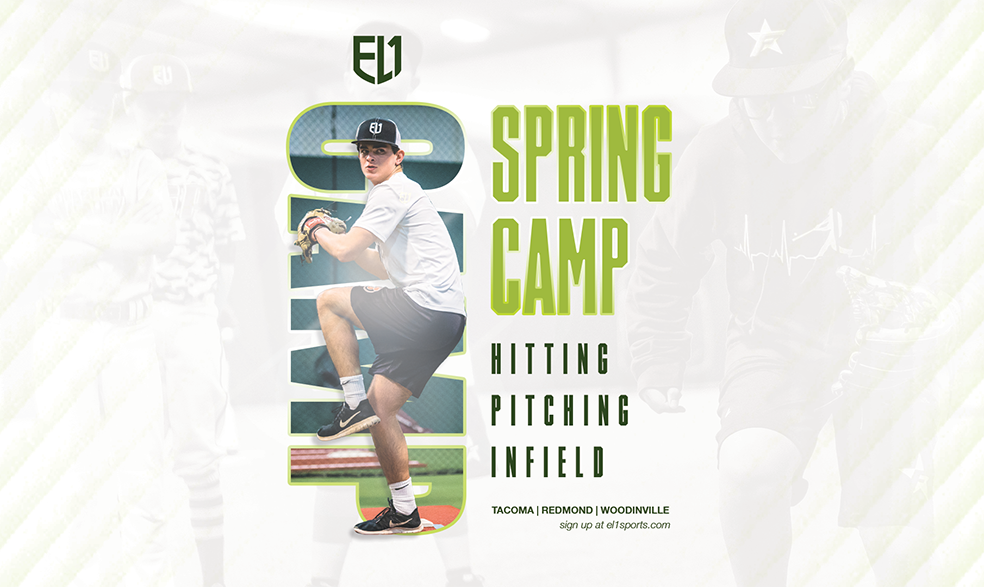 SPRING BREAK CAMP (2022)
Hope You Had Fun – We Did!
Location: Puyallup, Redmond, Tacoma, & Woodinville
Maybe you never got the memo, but Spring Break isn't a vacation – it's a time for getting ready to play ball. No better way to do that than with our three-day EL1 Spring Break Camps, which took place in March and April in Woodinville, Puyallup, Tacoma and Redmond. Athletes had the chance to work side-by-side with our instructors to stay down on grounders, shorten the stroke at the plate, talk situational baseball, and perfect those throwing mechanics. It was 9 hours of baseball training bliss, just in time for the new season – so if you missed out this year, put it on the calendar for 2023!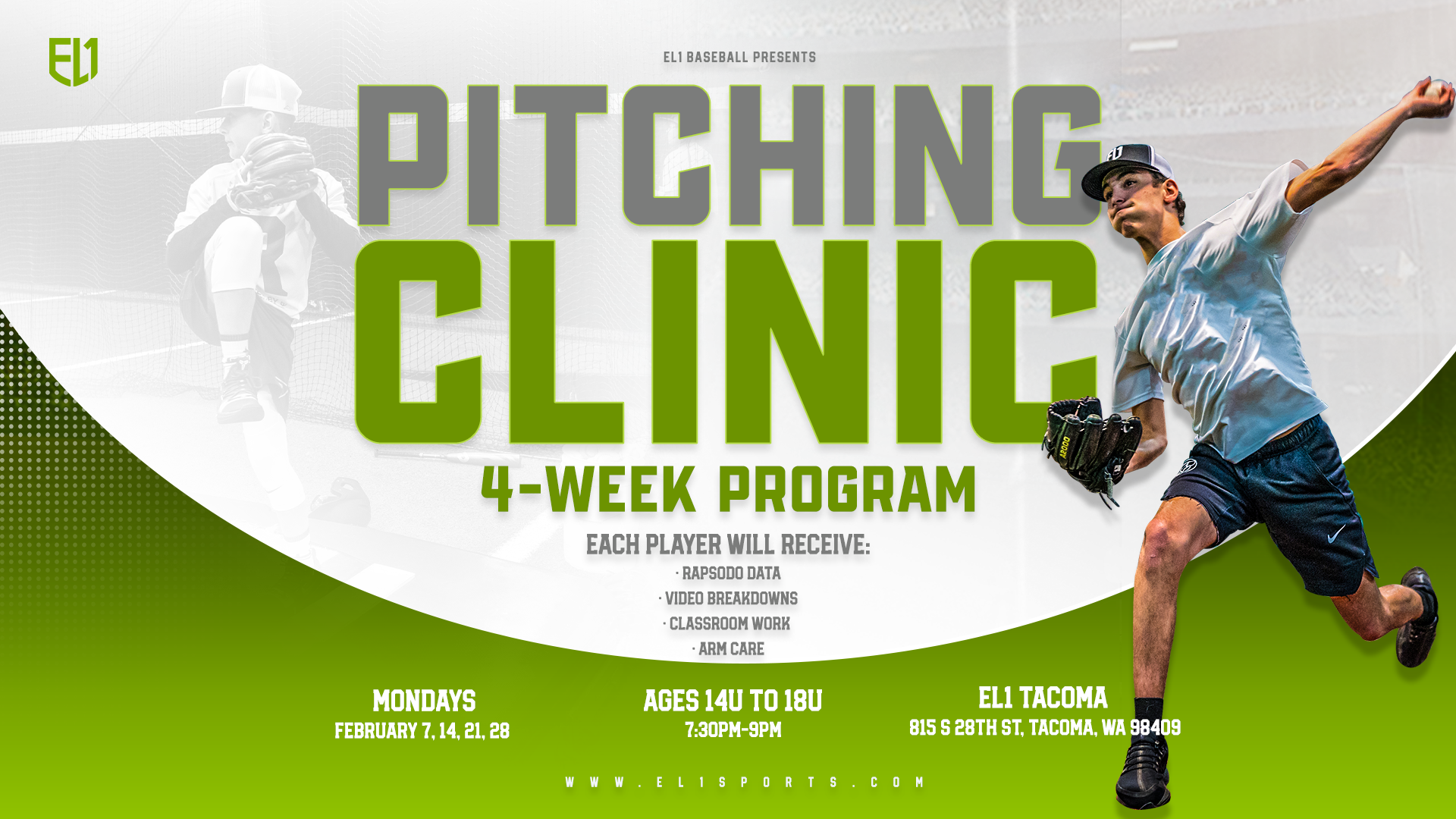 4- WEEK PITCHING CLINIC (2022)
Thanks for Attending!
Location: Tacoma 
We have wrapped up our winter Pitching Clinic for hurlers 14 to 18. If you are interested in working directly with EL1's pitching instructors to break down everything for you or if you would like to try out our new Rapsodo system to help analyze your spin rate, spin efficiency, etc., look for future Pitching Clinics, or consider our 1-on-1 lessons.
New for Summer 2022!
Speed, Strength & Ability Clinics
Looking to get bigger, faster, stronger and healthier? The join EL1 Baseball's Speed, Strength and Agility Camp, available in our Puyallup and Seattle facilities.
PUYALLUP
This six-week session is coed for athletes aged 12 to 18. Sessions start on June 13 and run through July 25 (no class on July 4th), run from 5:00pm to 6:15pm, and are just $250 an athlete!
Key focuses will include:
Proper biomechanics, form, and safety while in the weight room
Footwork drills to increase balance & agility
Flexibility program to reduce the risk of injury
Core strength for operational longevity
Nutritional information for long term health & wellness
SEATTLE
This program is a little bit different. Series one of this coed program begins on June 14 and runs though July 21, with a focus on in-season maintenance, durability, arm care and injury prevention.
This clinic will group athletes based on age and ability. Younger players (10u-13u) will workout 6:00pm-7:15pm, and older players (14u-18u) workout 7:00pm-8:15pm. Both include a 15 minute cool down period post-workout.
Sessions will be held on Tuesdays and Thursdays, and athletes can select either day or both for the duration of the program. A single day (Tuesdays or Thursdays) is $250 an athlete, and both days is $399 an athlete, for the full six-week clinic.